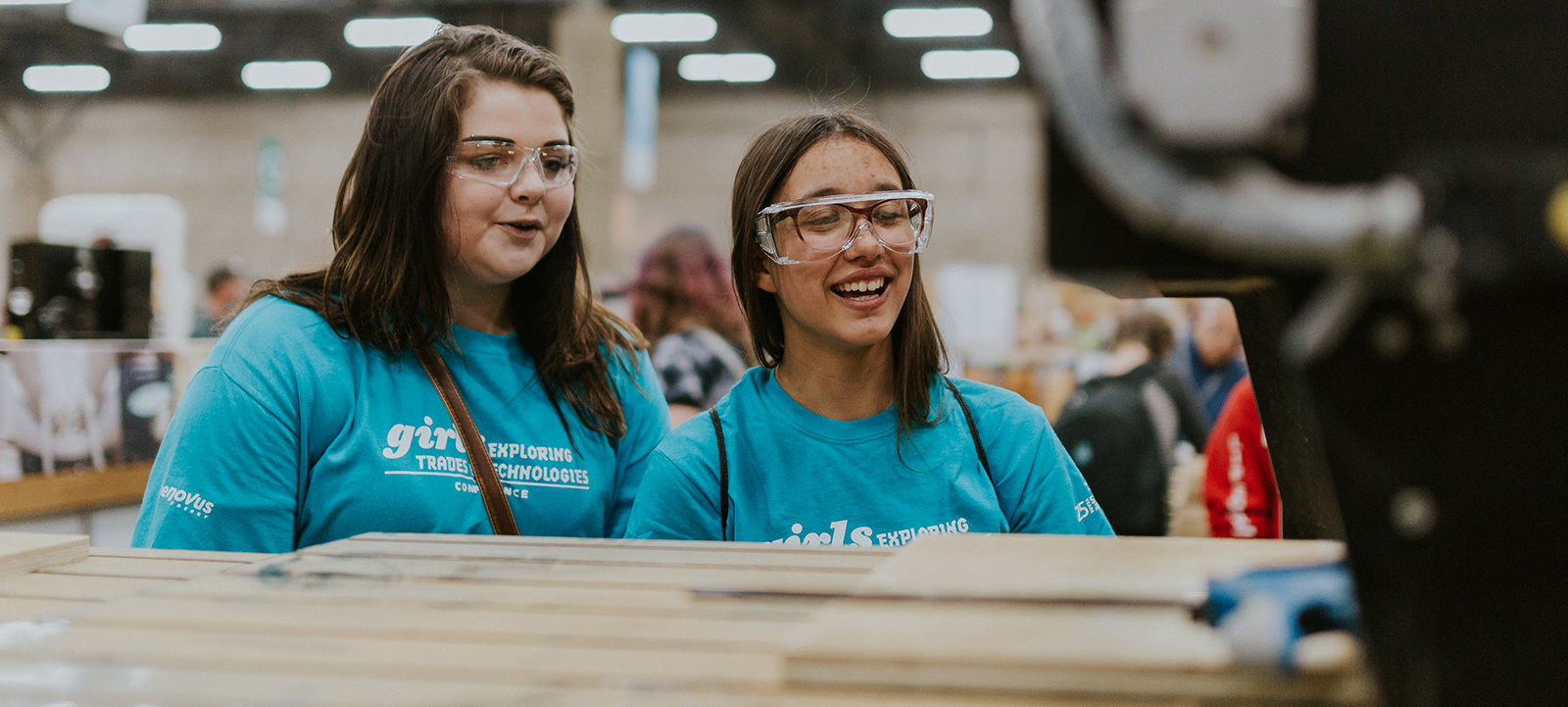 Girls Exploring Trades & Technology
The 2022 Girls Exploring Trades & Technologies (GETT) program is a month-long celebration of women in trade and technology careers.

GETT will take place during the month of March 2022.
Registration opens February 2, 2022 at 8:30am! Register on time – there are only spots available for 20 unique schools! GETT kits will be shipped out to registered schools by the end of February. Students are expected to participate in the GETT program by completing the kit projects and posting photos of their finished projects on the GETT Padlet for a chance to win some amazing prizes during the GETT Wrapped Up Lunch. See below for more information!
GETT into it! New this year, registered students will get the chance to test-drive careers and learn new skills through a variety of free hands-on GETT kits. The kits will be sent directly to the school and each kit includes the necessary materials and safety equipment for 30 students to complete a project, as well as instructions and tutorial videos. Using the kits, registered students will have the opportunity to choose and explore 6 different careers, each with 5 corresponding projects such as:
Sheet Metal (cell phone holders), Woodworking (storage caddies), Aesthetics (special effects make-up), Culinary Arts (sushi rolling), Electrical Installations (worm gear cars), Robotics (flitterbugs)
***See the "GETT Kit Description" PDF for more details***
In addition to engaging classroom kits, registrants will connect as a community via an exclusive online GETT Padlet giving them access to helpful resources such as: Partner & Career Information, Female Industry Influencer Videos, Goal Setting Activities & The 7 Dimensions of Wellbeing! Each student will also receive an exclusive GETT Swag Bag.
GETT Wrapped Up with a FREE lunch! We will supply a gift card for you to purchase your students lunch while everyone joins us live on Facebook on Wednesday March 23! Tune in for a live demonstration at 11:30 and the prize draw at 12:00! Students who posted photos of their final projects on the GETT Padlet will be entered into the draw for a chance to win these cool prizes:
An Oculus Quest 2, $200 Aritzia gift card, $100 Sephora gift card
Sign in to your Skills School account to register your students! Don't have an account yet? That's okay! Become a Skills School and create your account.